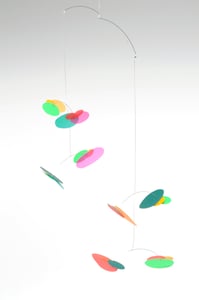 $

120.00
Inspired by spring blossoms.
Every mobile is handmade, 'one of a kind' and signed by me.
Colours: Oranges, pink, red, emerald green, purple, blue, yellow contrasted with black.
SIZE: 24 inches x 14 inches, 2 strand mobile. Mobile is suspended from a length of adjustable fishing line.
This mobile is built to last - I use quality materials- polished stainless steel wire, non toxic polypropeline (100% recyclable), and stainless steel coated wire.
The mobile comes safely packaged in a Pukapuka box, and comes preassembled so all you need to do is find a great place to hang it!
Please note as each mobile is unique it will vary slightly from the photos above
All designs, photos and text © 2016 PukaPuka™ Design. All rights reserved.