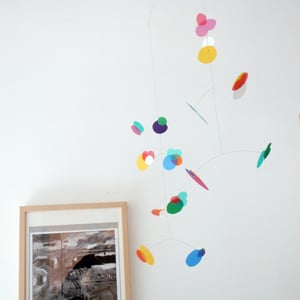 $

200.00 - On Sale
Colour disks moving gently
Size: 600mm x 300mm plus adjustable length
Materials: stainless steel, polypropelene, coated ss wire.
Rainbow of Colours: Blues, greens, yellow, pinks, orange, and purple.
Limited edition mobile designed and made in Australia. The mobile comes pre- assembled.
Please refer to my shipping section and Terms and Conditions for important shop information.
All designs, photos and text © PukaPuka Design .
NOTE: This is not a toy - ensure you hang out of children's reach.